Do you need one of these automotive cooling system services?
| | |
| --- | --- |
| | Do you have a Broken or Frayed Engine Belt? |
| | Is one or more of your radiator cooling hoses leaking? |
| | Is your Water Pump operating correctly? |
| | Engine overheating - Could be a broken Radiator - Engine Thermostat? |
| | Is it Time for you annual Cooling System Inspection? |
| | Have your replaced your engine Hoses within the last five year? |
| | Have your replaced your Engine Belts within the last five year? |
| | Is your cooling system at it top performance? |
Are you looking for cooling system experts - specialist?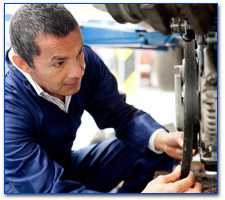 Our first specialty was the repair & replacements of cooling system components. We are successful because of our customer commitment and our vast cooling system repair experience.
Your car's cooling system is very complex. We suggest if you are experiencing a heating or cooling problem, let us inspect your radiator (make link to radiator page), thermostat, your vehicle's water pump and your car's hoses & belts.
If you are a do-your-self person, we stock foreign and domestic water pumps, heater and radiator hoses, radiator hose clamps, radiators, radiator thermostats and engine belts. Need help, ask us how to replace/ change a water pump.
Our expert mechanics are available to inspect, replace or repair any of your domestic or foreign car cooling system parts. We stock all the major brands and if you require OEM parts, we can obtain those.
Do not forget the importance of preventative maintenance for the cooling system of your car or truck. Let us inspect your full cooling system, determine if it is time to flush your radiator, change your coolant (anti-freeze), and inspect your hoses and belts, pressure check the system, and confirm the thermostat is operating within its guidelines .
Why should you trust West Adams Radiator to service or repair you car? Please visit our West Adams Advantage Page for our history.
Do you know the history of your car's water pump and thermostat?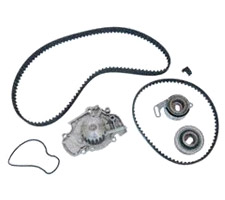 We know that the radiator's purpose is to keep the engine cool by circulating its water through your engine and then back to the radiator where the water where it is cooled by the air running through it.
The water pump was created to efficiently move the water from the radiator to the engine block and your car's Heater radiator. It the water pump is not working, your engine will overheat and could severely damage your engine.
The thermostat is required when the outside temperature is very low. It shuts off the water circulation if the temperature is below a fixed degree. If you did not have a thermostat, your car heater would never provide warm air and the engine could be too cold for optimum performance.
The engine hoses and the engine belts primarily assist the cooling system perform its function.