Is it time to Service Your Foreign or Domestic Car – Truck-SUV?
Do you need an Oil Change? Is your Check Engine Light on? Call West Adams Specialists and let them perform your next Auto Service.
| | |
| --- | --- |
| | When do I really need a vehicle Engine Tune Up? |
| | Are Engine Tune Ups based on mileage driven or a number of months? |
| | Are all Tune Ups the same for every Car - SUV – Truck? |
| | When should I need an Oil Change – every 3,000 miles, 5,000 miles or 10,000 miles? |
| | Should I choose synthetic oil or petroleum oil-why? |
| | My check engine light is on – is it safe to drive my vehicle? |
| | How much does it cost to fix the Check Engine Light? |
| | Are you experiencing a drive ability problem – your car is not running like it use to? |
West Adams provides high quality Auto Service at discounted prices. Our automotive specialist do Complete Engine Tune Ups, Oil & Filter Changes and Diagnosis /repair of Check Engine Lights. West Adams is successful because of our customer commitment, fair pricing and many years of Automotive Experience.
Engine Tune Up: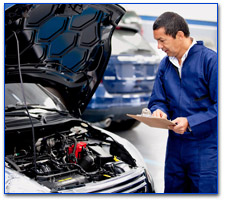 What exactly is an Engine Tune Up and how often will my Car, SUV or Truck require a Engine Tune Up?
The good news is that if you car is newer than 1990 and have Fuel Injections, you may only need the engine checked every 30,000 to replace the Spark Plugs, inspect the Fuel Injection, inspect the Engine Wiring Harness, replace the Fuel & Air Filters and inspect the PVC (Positive Crankcase Ventilation Valves.
For all vehicles we will perform a Complete Computer check of your Engine and a Multi-Check Safety Inspection as part of our complete Engine Tune Up Service.
Is your car- SUV – Truck older than 1990? Do not worry. You car may need an Engine Tune Up every 10,000 to 12,000 miles.
Typical Engine Performance Issues:
| | |
| --- | --- |
| | Are you experiencing a Decrease in your Gas Mileage? |
| | Do you have a Loss of Engine Power? |
| | Do you hear a Engine Knocking Noise when accelerating? |
| | Does the engine continue to run after the ignition is turned off? |
You should make an appointment for us to diagnosis those symptoms. You could have a faulty Spark Plug, faulty Spark Plug Wire, blocked Fuel Injector or a dirty Carburetor.
Cleaning Fuel Injectors:
Should you have your Fuel Injectors Cleaned? First, let us determine what your vehicle manufacture recommends. Second, are you experiencing a loss of Engine Performance? Some experts say, if it is not broken do not service, but others say preventive maintenance (PM) can keep your car, truck or SUV running longer. Our recommendation is to have them checked every 12 months or 12,000 miles. Your driving conditions and the type of fuel you use may extend or shorten our estimate.
Filter Replacement:
We recommend you inspect and/or replace your replace your Fuel Filter and Air Filter every 6 months or 6,000 miles. Your driving conditions, weather conditions and the type of fuel you use may extend or shorten our estimate.
Check Engine Light: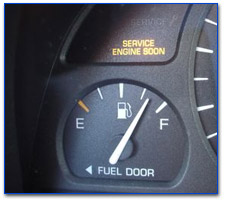 You check engine just went on – Should you have your car towed for diagnosis or can you continue to drive for a short time. You should have the problem diagnosed soon. Diagnosing your Check Engine Light is common and the West Adam mechanics can quickly tell you the reason for the light and the cost to repair.
The check engine light signals a potential problem and there are four typical reasons
Gas Cap:
You gas cap could be loose or missing. Check your gas cap
Spark Plugs:
Spark plugs are small but essential, since they make the car go by igniting the compressed fuel in an internal combustion engine. Misfiring spark plugs can affect engine power and fuel economy and can also damage the catalytic converter. You can replace spark plugs yourself for as little as $10 or pay $300 for a technician to do it.
Catalytic Converter:
The catalytic converter uses a precious metal like platinum — to convert harmful emission gases o less harmful emissions.
Faulty oxygen sensor
The sensor measures the amount of unburned oxygen in the exhaust. If the rating is to high, it triggers the oxygen sensor.
Oil and Filter Change: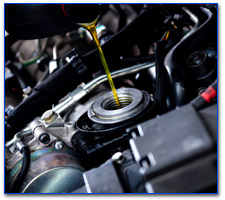 The type oil you use and the frequency of changing your engine oil & filter will influence the engine's life. Some people adhere the rule of every 3,000 miles. Newer cars, trucks and SUV use synthetic oil which does cost more, but extends the oil change to 10,000. Of course, for the first 75,000 miles you may be inclined to follow your manufacture's recommendations. If your car has more than 75,000 then check with the professionals at West Adams for advice.
Premium Conventional Oil:
This is the standard new-car oil. We recommend a Union 76 Premium Oil. It comes level SL and is available in several viscosities. Car manufactures normally specify a 5W-20 or 5W-30 oil and a 10W-30 oil as optional, which is particularly for higher temperatures.
Full Synthetic Oil:
Many newer foreign care and high tech cars like the Chevy Corvette recommend Synthetic Oils. We recommend Mobile 1 or synthetic oils. These oils pass stringent and have longer-lasting performance in the critical areas, including viscosity index to fewer deposits. Should you use synthetic? The full synthetic oils are expensive and not every engine needs them. Check your owner's manual they may be not recommended.
Synthetic Blend Oil:
As the name implies, these are a combination of synthetic oil mixed with organic oil. Their purpose – is to protection for somewhat heavier loads and high temperatures. It is a popular choice for drivers of pickups/SUVs who need the load protection. Plus, they are less expensive than full synthetics.
Remember; always change your oil filter with every oil change!
Ask a West Adams specialist to assist you select the correct type of oil for your car, truck or SUV, based on your engine, driving style and budget.