When it time to purchase new tires for your Foreign or Domestic Auto, SUV, Truck or Van call West Adams for expert tire advice.
| | |
| --- | --- |
| | Do you need one tire, a pair of tires or four tires? |
| | Are you looking for OEM tires, radial tires, low profile tires, high performance tires, all season tires, or a good general wear tire? |
| | What is more important to you, the best price tire, a longer treads warranty, or the highest quality? |
| | Do you want a soft ride tire, an all terrain tire or a sports car tire that hugs the road tire? |
| | Do you know what tire rating is recommended for you vehicle? |
| | Do you see uneven wear on your tires? |
| | What tire brand do you prefer, Bridgestone, Dunlap, Firestone, Goodyear, Kelly, Kumho, Michelin, Nexen, Pirelli and Uniroyal? |
| | Do you have a flat tire that needs repair? |
| | Do you need a tire expert to explain the tire rating, brand comparison and the best tires for your car or truck? |
If you answered yes to any of the questions, it is time to call a West Adams Tire specialist.
The technology of tires can be intimidating. Let West Adams assist you for your next tire purchase.
Tread life: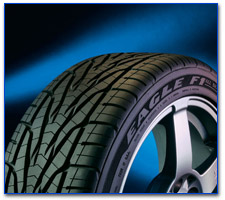 How long should your new set of tires last? The tread life ratings are provided by the manufacturer's testing, but it is only an estimate, as your driving conditions may shorten or lengthen the tread life. The Department of Transportation provides the UTQG tire rating. Their established rating system is requires each manufacture to report on tread wear, traction and temperature resistance. A tire graded 150 should wear 50% longer than a tire graded 100%
Speed rating:
Do often travel over 130 mph? Probably not often? You do not need to pay for a higher rated tire if you know your will never exceed that tire's speed rating. Below are the Rating and the speed upper limits.
Q= 99 mph S= 112 mph T= 118 mph U= 124 mph H= 130 mph V= up to 149 mph
Ride Quality:
Do you like the look of low-profile tires? Maybe your car requires a low profile for maximum cornering maneuvers. A 50-series or a 40-series does look great, but you will experience a rougher ride over bumps or potholes, compared to a 55-serices or a 60-serices tire. The lower profile tires do expose your wheels to more frequent damage and they have stiffer sidewalls. A stiffer tire sidewall does improve handling, but it will increase a rougher ride.
Noise:
Some tread designs are just plain noisier. It varies between tire brands and tread designs. When you are driving on the freeway is when the noise is most noticeable. Let our tire experts inform you which tires are quieter among the many brands you may be considering.
When to Replace Your Tires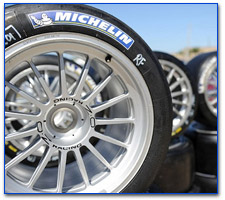 Government regulations require that tires sold in the US have "tread wear bars". These small rubber bridges are manufactured in-between your tire treads. When the bars become flush (level or even) with your tire's tread, it is time to replace the tires. Pay particular attention to the inside treads. If your tires are wearing unevenly, you may need to replace the tire due to excessive inside tire wear
You can also check your tire tread by using the "penny test." Take a penny and place it upside down with Lincoln facing you in the center of the tread. If you see the very top of Lincoln's head or any copper above it, you should replace your the tires immediately.
Why should you trust West Adams for your next tire purchase? Visit our West Adams Advantage Page for our long history
Are you looking for a great deal and the best tire price? Check our on-line Tire specials or just call us TODAY and ask what the current tire specials are.
Have you ever wondered about the history of tires?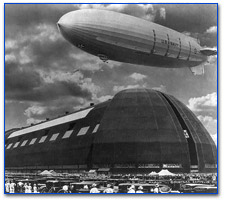 The pneumatic tire was originally manufactured by John Dunlop. He was working as a veterinarian in Ireland in 1887. The pneumatic tire was for his son's bicycle and designed to lessen his son's headaches while riding on the rough roads.
The vulcanization of natural rubber has been credited to Charles Goodyear and Robert Thomson. Today, over more than 1 billion tires are produced annually.
Wan to know more, see Wikipedia,
Remember, No matter how you spell the tire brand, we probably have it in stock
Pirelli Tires, Pirelli tires, Michelon Tires, Michellin Tires, Michilin Tires, Michlin Tires, Goodrich Tires, Good Year Tires, Michelen Tires, Brigestone Tires, Dunlop tires, Kellys Tires, Kely Tires, Khumo Tires, Kumo Tires
| | | |
| --- | --- | --- |
| MON | :: | 8:00AM - 5:00PM |
| TUE | :: | 8:00AM - 5:00PM |
| WED | :: | 8:00AM - 5:00PM |
| THU | :: | 8:00AM - 5:00PM |
| FRI | :: | 8:00AM - 5:00PM |
| SAT | :: | Closed |
| SUN | :: | Closed |
| | | |
4928 W. Adams Blvd.
Los Angeles, CA 90016

Call Us Today
323.731.0816