Shock Absorbers – Struts – Suspension
Is it time to have your Shock Absorbers or Struts inspected or replaced? Do you have any of these common signal of a malfunction of your vehicle's Shock Absorbers or Struts?
Here are some common signs that you may need a shocks and/or struts inspection:
| | |
| --- | --- |
| | Does your car, truck, or SUV sway or roll on turns? |
| | Does the front end of your vehicle dive down when braking? |
| | When you accelerate, does the rear end of your vehicle seem to squat down? |
| | Do notice that your car bounces and/or slides sideways on a rough winding road? |
| | Does your car, truck or SUV seem to "bottoms out" going over potholes? |
| | Do you see uneven wear on your tires? |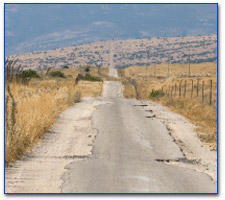 Your vehicle suspension is complex and contains several components. Shocks and Struts are only one component and the diagnosis and repair requires special equipment and knowledge. Let the experts at West Adams perform a complete suspension inspection. It is a matter of your family safety.
How many miles do shocks and struts last:
Many experts recommend an inspection every 12,000 miles or once a year. Of course, if you experience any of the above symptoms, call West Adams to schedule a shock and strut inspection.
Testing has shown that original equipment gas-charged shocks and struts degrade by 50,000 miles. Replacing worn shocks and struts should improve the vehicle's handling and your comfort.
Your shock absorbers or struts can compress and extend several times per mile, even on a smooth road. They may compress several hundred times per mile on a rough road.
The type / brand of your shocks or struts life is affected by your weather conditions, road contaminates, your driving habits and the load of your vehicle, tire.
What is the purpose of shocks and struts last: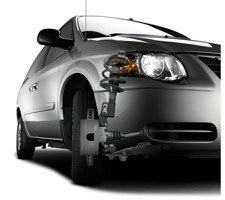 Your shocks and/or struts perform several functions. First, they dampen or lessen the spring oscillation.
The shocks and/or struts are what provide your comfortable ride. Can you just imagine the ride without shocks and/or struts?
You vehicle handling is primarily controlled by the shocks and/ or struts and springs forcing your tires to the pavement. Your vehicle's springs actually absorb road shocks.
Another primary purpose it that the shock absorber and/or strut dampens the vehicle spring's bounce.
We recommend Monroe replacements for your shocks and/or struts